Longball Larry on YouTube
Here's my Dad, aka "Longball Larry," at one of his recent softball games. In case you were wondering, he is 75.
Rock on, chicas!
Finished out the school year with all 4 girls just shining:

Bex - 4.0 BABY! Perfect grades her dad would be so proud of! Lettered in debate for the 3rd year in a row after kicking it hard on the policy debate circuit over a grueling 5-month long season. Masonic Honoree, Girls' State, Debate team "MOM" for always taking care of teammates' food, hydration and clothing-perfection needs.

Tate - Youth Legislature, Montana Congressional intern, 'A' student in advanced placement, soccer babe (just back from tournament play in Denver and off to regionals in Las Vegas next week), nearly-fluent Spanish speaker headed to Argentina on a Rotary exchange this fall.

Jess -Superstar 'A' student with graduate honors in the grace and wisdom I can only hope to have half of someday, excellent runner with great promise in the 1600, 800 and high jump (and my personal anti-pile inspiration).

Sophia - Yet another 'A' student, soccer babe and super sparkle! Along with Jess, leaves middle school behind in tear-jerker 8th grade graduation ceremony.

APPLAUSE! We're so proud of you! Thank you all for being such beautiful, smart, funny and delightful people.

>>stay tuned: this means we have 4 kids in high school next year. My only regret is that we didn't turn on the reality TV cameras 2 years ago. xxxxooooo!
Happy Anniversary, baby!
Thanks for being my partner in this wonderful family of ours (including the Pet Asylum). See you tonight! ~wink!~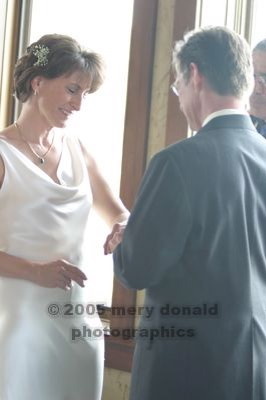 wedding ring
Collective conscious
Yeah! I had that dream last night, too! So who is the Asian chick? And by the way, I have your shopping bags, and I'm not giving 'em back.
If that makes no sense to you, then enjoy the pleasures of Chingchonggate with Defamer, the L.A. Gossip Rag
In all fairness, horse shows are hell
Time to reevaluate Mary Engel ?
Hm, no, not me (although I suspect I could use a dose of reevaluation myself). It's just that I loved this headline. Sounds so dire.
Source: Visual Arts in Atlanta
It's Time to Reevaluate Mary Engel
The intelligentsia of the Atlanta art scene has consistently dismissed the canine sculptures by Mary Engel as more craft than art, lacking any real conceptual depth. I've always had a much higher opinion of the work in that certain crafts when executed in an extraordinary fashion, transcend the world of craft and enter the world of fine art (the quilts of Gees Bend are a fine example). At her latest show at Marcia Wood Gallery Engel erases any doubt that her sculptures belong in the realm of fine art. In past shows her works were highly sentimental, while this time around they seem to be more about sentimentality itself. The postures of her dogs weighed down by dozens of porcelain figurines of birds, cats dogs and other animals evoke more of an intellectual than emotional response. It seems that the figurines are in conflict with the dog itself leaving the viewer the task of reconciling this conflict with his or her internal reaction to the separate elements of the dogs and their adornments.

Mary Engel trends and profiles
A cursory study of online links shows that women named Mary Engel tend toward artistic, creative or nurturing pursuits. I happen to own MaryEngel.com, but the next obvious link, MaryEngel.net belongs to an artist, a sculptor. Give a comment back if you own other Mary Engel domains, or if your name is Mary Engel.
What Else Do We Have In Common?
Mary Engels of the world, unite! Or at least, send a comment back telling us your location and occupation... and anything else you'd like to share.
I'll go first: I'm a mom (two teenage girls), soon-to-be wife, soon-to-be stepmom (two more teenage girls), a writer, equestrienne, curator of the eclectic, runner, photographer and passionista. We all live in a yellow submarine in Bozeman, Montana.
Tell me about you, Mary Engel.
Questions & comments
1