Copywriting Kickstart of the Week: Sustainable Malaysian Design
Beautiful things inspire beautiful words. What would you say about this?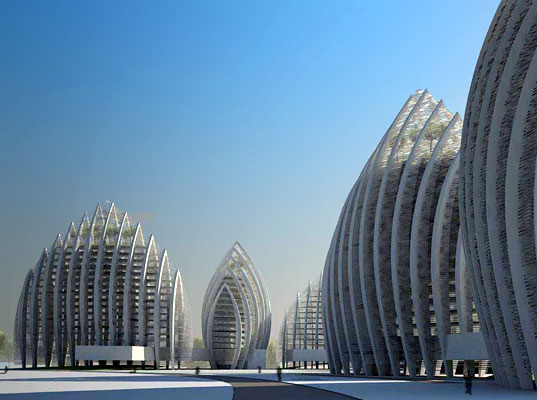 Inhabitat.com says:
Malaysia is no stranger to iconic buildings. Two of the tallest buildings in the world, the Petronas Twin Towers, are located in Kuala Lumpur, the country's capital. So it comes as no surprise to us that a stunning new residential development is planned for the Putrajaya waterfront known as Precinct 4, just 30km south of Kuala Lumpur. The design, however, is a refreshing and original with unique, marine-inspired structures - which also draw from traditional Islamic designs - arranged in a permeable, radiating block of bioclimatic architecture.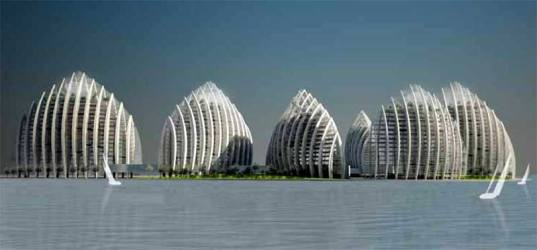 The winner of a recent contest, the design for Precinct 4 comes from Studio Nicoletti Associati and Malaysian architects Hijjas Kasturi Associates, who provided the masterplan of Putrajaya. The goal of the designers was to provide a model for sustainable residential design that was inspired by the city's unique landscape which includes an expansive artificial lake. The biggest inspiration came from the sea and the entire development resembles a fleet of ships.
The architect's goal was to design buildings that tell "of its place of origin which is culturally modern, Islamic and tropical in nature." Added to this is Nicoletti's extensive experience in design and construction for extreme climates. For Precinct 4, the Italian firm brought sustainable strategies like terraces, sunshades, natural ventilation and integrated green space into the design. The buildings will source from alternative energy and are expected to produce 50% less CO2 emissions than similar residential projects.
Link to more photos/renderings: Inhabitat: Sustainable Towers in Malaysia by Studio Nicoletti Associati