Further proof of conspiracy: Hello Kitty Bra Shop
Chew the right thing
Niche obsessions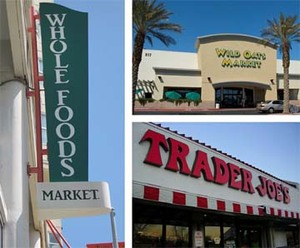 Christian and I have been watching this story closely. Here's an excerpt from "Trader Joe's -- the Forgotten Supermarket Giant" via Brand Autopsy. Full text after the jump.
There's been much hullabaloo surrounding the FTC blocking the proposed merger between Whole Foods and Wild Oats. The FTC believes this merger will concentrate too much of the country's natural/organic supermarkets in the hands of one retailer. And because of this, consumer choice will be reduced, leading to higher consumers prices for natural/organic foods.
In the lawsuit filed last week, the FTC contends, "Consumers have benefited directly from the price and quality competition between Whole Foods and Wild Oats. If this acquisition occurs, those [price/quality competitive benefits] will be lost."
Continue Reading
Obviously, Priceline is Shat-tastic
Hey! Pee Wee Herman Nikes
Lifesize NASCAR or truly jumbo shrimp?
The study of brand marks really is logos
But what about the toast?
Curious Americana
At last, a gift we can use
Little businesses build a big world
MySpace. Not even once.
Disaster brands
Brilliant!
We all have our reasons
World's greatest branding event continues
"The brands you love love soccer"
Microsoft's Birthday Greetings to Apple
I'm a Pepper, you're a Pepper out $5 Mil
If Microsoft redesigned iPod packaging
And I thought typos were bad
What took NY mag so long?
Commodity gifts miss the point
Cash flows to online advertising
Sort of on-topic, by way of consumer behavior
The Smackdown Learning Model
"This is Broken" customer disservice showcase
Branding the homeless?
How blogs build customer loyalty and more
GE has finally flipped: supermodel coalminers
Are you like me? Do you hate new Gap concept name?
Basic but invaluable marketing maxims
Addicted to ads
What about your brand?
Brand goes beyond the buy
My ad peeps will know this one...
Benefit-Rich Headlines Build Your Web Business
New York City has applied for a trademark for phrase