Gimme shelter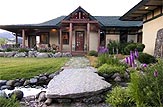 Our latest client is that stylish and erudite house of real estate finery, the Montana affiliate of Christie's Great Estates. The previous month or so of work over here at Faith River Communications will contribute to the area's coolest and most-educated web site devoted to luxury Montana real estate: this outfit is staffed by some impressive folks who truly "get" the upscale client. We've got the articulate and compelling modelly Zuzana, we've got Dartmouth, we've got a former international financier, we've got the native Montana element, and my friends, I have to tell you, it doesn't get any better than this.
If you click in today, you can watch the web site evolve from its current state to the new (coming soon) version devised by Eric Hathaway, Cary Silberman (my man! in the design biz) and yours truly: Christie's Great Estates Exclusive Montana Affiliate
For more about copywriting for Montana real estate, contact Faith River Communications.