Robotics in the Rockies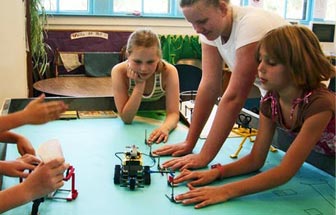 Right here in Bozeman, there's a new program getting kids tapped into global-impact technologies: Robotic Explorer, founded by Debi Maloney, M.Ed.
Robotic Explorer shows kids how to build, program and control their robotic creations to carry out specific tasks in a number of engaging environments -- from the deep sea to the far reaches of the solar system. Robotics Explorer is a bridge where kids tap their inherent tech-genius to see the vast possibility of real world applications. And kids love it!
Want to productively fill a piece of your kids' summer with something fun and mind-expanding? Or just in town for a few days and need something cool for the kids to do? Check out the Current Schedule at Robotic Explorer Now
Get more info about this breakthrough learning opportunity at Robotic Explorer.